Dr. Judson Chevalier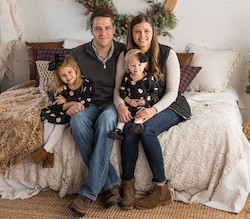 Dr. Judson Chevalier joined the Vision Source Owasso team in 2019! Before joining our team, he completed his undergraduate studies in San Angelo, TX at Angelo State University in 2014, receiving his Bachelor's Degree in Biology.
Dr. Chevalier then attended optometry school at Northeastern State University in Tahlequah, where he received his Doctorate of Optometry. Dr. Chevalier graduated first in his class, being recognized as both the top academic and clinical student among the class of 2018.
He then went on to pursue an additional year of residency training in ocular disease and refractive surgery in Tulsa, OK at Triad Eye Institute. Dr. Chevalier specializes in comprehensive eye care, ocular disease, and pediatric optometry.
Dr. Chevalier's wife, Caitlin Chevalier, is also an optometrist. The two met during their first few days of optometry school in Tahlequah. They have two daughters, Briar and Macy. Dr. Chevalier enjoys playing golf, spending time with his family, and traveling.
Dr. Chevalier is accepting new patients now!